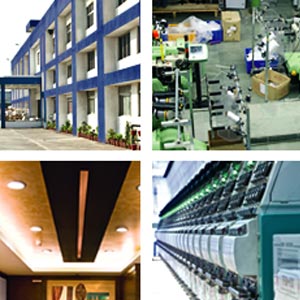 Fashion and style for every décor.
With an objective to cater to today's well-travelled homemaker, we offer the most tasteful selection in fabrics, textures, colours and prints. A range that delivers elegance with functionality, and distinguishes every interior space with an identity of its own. Thereby turning homes into fashionable residences.
Growth, fueled by innovation.
Circa 1999.
Dicitex started with a singular vision of becoming a globally reputed name in the Home Décor industry. In a little over 14 years, today we are among the world's Top 5 manufacturers of uber-chic furnishing fabrics and upholstery with a turnover of around 300 crores INR. While we have begun well on our journey to become India's No.1, our progress is fueled by our commitment to deliver a seamless blend of international quality and impeccable style in a mind-blowing palette of colours.
With over 5 decades of proven expertise and experience in understanding little details of home décor, we continuously endeavor to set new benchmarks in quality and design through innovation.
A manufacturing facility, powered to deliver.
Our manufacturing facility is truly international, one which enables us to constantly innovate, and achieve the near-impossible. With unflinching emphasis on quality, detailing and perfection, we've invested in the finest of global technologies.
Our infrastructure is powered by a state-of-the-art set up consisting of three vertically integrated mills. These are empowered to manufacture 20 million meters of fabric per month. Together, they make Dicitex a powerhouse of technology and innovation in the Home Decor Industry.
This facility delivers an exhaustive range of high-luxury furnishings including Velvets, Chenille, Damasks, Embroidered and Sheer Curtains, Dress Materials, Made-ups and much more.
The manufacturing process at Dicitex is in adherance to its guiding philosophy of
"TIME – Technology & Innovation with Mission for Excellence" and has made us pioneers in the field and led to modernization, subsequently widening our horizons towards bigger and greater avenues.
Customer first. Always.
Our customers are ever-evolving. They are stylish homemakers of today and jet-setting globetrotters. And we understand this like no one else does. Keeping them at the core of everything, we go the distance to capture their pulse and understand their many preferences and tastes. These continuous chain of learnings marked the genesis of our independent Design Studio. Based out of Italy, this Design Studio, along with talented global Designers apply our feedback and create innovative designs that are not just aesthetically appealing but also trend-setting in the respective markets. This endeavour has enabled us to enjoy the continued patronage of our customers, and we continue to grow not only in terms of market share, but also mind share.
Global Footprint
Today, Dicitex has made its strong presence felt in some of the world's most discerning markets. Markets, that are known to settle for nothing but the finest. Today, about 65% of our production reaches buyers including homemakers in over 65 countries worldwide. We haven't left any market untouched be it established retailers in Middle East, the US market, South East Asia and the European market too, clocking business with top-end retailers globally like M&S, West Elm, C&B etc. among others.
Dicitex Retail Dicitex furnishings-We furnish the world
A treasure trove of innovation with stunning designs and textures. An extensive collection of fabrics ranging from classic to contemporary encompasses this grand launch. Our quest is to feature a world of inspiration with the best of industrial technologies to create the finest luxury brand for the Indian, as well as international markets & we are proud to have 400 customers in india. We have varied and mesmerizing designs, to inspire every space in your home, each a contender on its own.
Fall in love with a single iconic piece or a melange of articulated pieces for a room that's visually your dream. The ultimate in quality and appeal, our home furnishings are definitely-The ultimate luxury.